Fishermen, thanks for visiting www.SaltwaterFishingGuides.com.
We are here to help you locate the fishing guides or charter services for the exact area of the Texas Gulf Coast that you plan to fish. The guides listed here are professionals...They strive to see that you have a safe yet exciting fishing experience...Visit their web sites for detail information.
These Two Domain Names available for use.


Contact us for Details!
www.SabineLakeFishingGuide.com
www.TexasBayFishing.com
This Site Best View at 800 x 600

---
Sabine Lake Fishing Guides and Charters
Double Click on the guide's photo or their link to go directly to their site.
Guide services are listed in alphabetical order.

www.A-1AnglingAdventures.com

A-1 Angling Adventures


Come and share an Angling Adventure with Capt. Mike Rachal. If you are interested in exploring the great fishing of Sabine Lake on the Texas-Louisiana border or fishing the Galveston Bay Complex on the Texas middle coast then you need look no farther. Visit our website and give us a call...We are ready to take you on an A-1 Angling Adventure!



Contact

- Capt. Mike at 936-788-3562 (cell).

www.FishSabine.com

Captain Randy's Guide Service
Come fish Sabine Lake, the Jetties in Louisiana or even the Gulf of Mexico with Captain Randy Foreman of over 28 Years Experiance. The fishing is HOT right now and it's only getting better! So if your serious about looking for that Trophy Trout, Red Fish, or Flounder let me show you the way. I'm US Coast Gaurd Certified and Licensed in Texas and Louisiana. So bring yourself, friends, or family and lets go fishing!
For futher information please call 409.719.6067 or Visit us at www.fishsabine.com
Coastal Outfitters Guide Service




Capt. Steve Davis has been fishing the Sabine Lake Area for over 25 years and has the experience and know how to give you an affordable, enjoyable Sabine Lake fishing excursion. Capt. Steve runs a new 24' Sea Chaser center console with the latest equipment and electronics, guaranteeing you and your party will be safe and comfortable on your Sabine Lake fishing trip.

Call Capt. Steve Davis at (409) 460-1220 or email

www.coastaloutfittersguideservice.com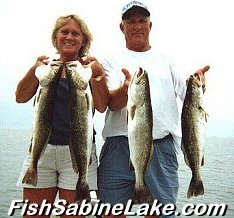 Have Boat Will Travel Guide Service
Captain Bill Watkins is a native of the Sabine Lake area and has fished in the area for 40 years. He has fished for just about every species of fish that is available in Southeast Texas. If you are looking for some of the best fishing on the Gulf Coast, Sabine Lake is definitely the place to visit. We are blessed with abundant populations of speckled trout, red fish, and flounder as well as many other salt water and fresh water species. Our area is not as crowded as a lot of other Texas bays, and has not had nearly as much fishing pressure.
Call 409.786.2018 - Cell: 409.673.9211
www.FishSabineLake.com
---
Fishing Guides, to sign up with Texas SaltwaterFishingGuides.com, just fill out form you will find HERE. Or you can just use the form as a guide for the information we would like to receive from you and mail such to the address above.

SaltwaterFishingGuides.com
Attn: Web Design
208 Greenbriar, Wharton, TX 77488


Email: webmaster@SaltwaterFishingGuides.com


TexasGulfCoastGuides.com
New- Get listed today!!
Domain Names available for use:

TexasBayFishing.com

SaltwaterFishingTexas.com
***********************
GalvestonBayAdventures.com
GalvestonFishingAdventures.com

MatagordaBayGuide.com
GalvestonCharters.com
GalvestonSportFishing.com
GalvestonGuides.com
OffshoreFishingTexas.com


If you are interested in the use of this domain name,
contact the webmaster of this site for information.
Back to SaltwaterFishingGuides.com

Guides Registration and Sign Up

Guide Listing Index

Web Site By




E-mail Webmaster@SaltwaterFishingGuides.com